Have y'all ever sat and listened to a friend that is a more mature Christian, (or at least more knowledgeable in a certain area) and just been in AWE of what they KNOW?  I have several friends like that.  I just want to have long conversations with them and let them POUR into me what they have learned!!  We ALL need that sometimes.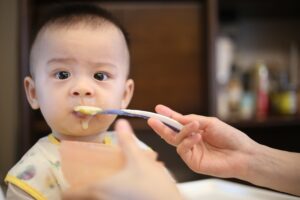 The Word has a LOT to say about Spiritual maturity. Hebrews 5:12-14 likens the growth of a Believer to the growth of a child.  Paul (the author of Hebrews) talks about how the milk (the basic foundational teaching) is for the infants.  Milk is for those who are new in Christ.  New Christians.  Baby Christians.  There is no shame in a baby Christian needing the milk of the Word.  The milk is what sustains you in your infancy, nourishes you while you develop, and gives you the building blocks to advance your growth.
The trick is to NOT stop growing!  If you only drink milk from here on out, eventually, you will stunt your growth!  We are to progress from milk, to being spoon-fed some soft food, and then ultimately, getting to the meat of the Word and being a mature believer.
But the goal, y'all, is to be a SELF FEEDER!
Sure, it's always nice to have somebody pour into you. It's nice to sit in church, or in a class and have somebody spoon feed you things you may not already know, or just need to be reminded about.  But that shouldn't be the diet that a mature Christian (or those aspiring to be a mature Christian) subsists on.
Don't be a BABY!!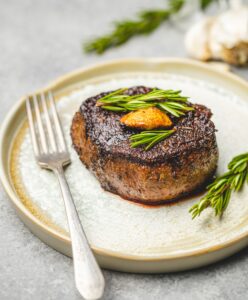 Just like a child learns to feed himself, Christians have to LEARN to be self-feeders! (And y'all, I am talking to myself, here too.  I have been a Christian for decades and I STILL feel like I don't REALLY know how to STUDY the Bible properly on my own like I should.)  We should be practicing and learning to prepare these spiritual "steaks" for ourselves.  In the same way a child learns to use a fork and a spoon and eventually a knife appropriately – we should be learning to use tools to help us feed ourselves.  We need to learn to use the footnotes in our Bible, a concordance, a Bible dictionary.  We need to learn to use good commentaries and how to look up the Greek, Aramaic, and Hebrew translations of key words.  We need to learn to use the Bible itself to interpret a specific scripture.
The old adage applies here:
"Give a man a fish, feed him for a day.  Teach a man to fish, feed him for a lifetime."
We pray for people to have a HUNGER and a THIRST for the Word of God and the things of God.  But in reality, what good does it do to be hungry if we don't eventually train them to feed themselves?  Would you leave a child that can only drink milk to fend for himself?  What about a toddler that only knows how to eat with his fingers?  Of course not!  So why are we not more diligent in learning and teaching Believers how to prepare their spiritual food, and feed themselves?  We are EXPECTED – we are CALLED – to be able to examine the scriptures on our own (Acts 17:11). And that means more than just READING them (although, obviously, READING is a good start!) – it means we have to STUDY them.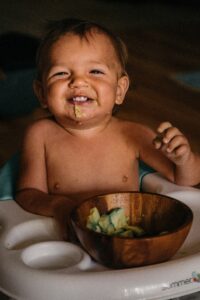 So find books on HOW to Study your Bible.  Get some tools.  Find a mature Believer, a Pastor or a Teacher that you trust and ask them about their study methods.  We all learn differently and at different paces.  The point is to MOVE and have progress – to NOT be stagnant and unteachable.  "Strive for progress, not perfection," as they say.  The Holy Spirit will teach you (John 14:26).  Pray and ask for wisdom and revelation like Paul did for the Ephesians (Ephesians 1:17-23). Don't get frustrated.  And trust that the Father will give you what you ask (Matthew 7:7).  When we equip ourselves in this way, we are then better able to teach, equip and raise up each other as well.
Tell me church, is somebody still spoon-feeding you? Or do y'all know how to use that fork?
Hebrews 5:12-14 NIV    In fact, though by this time you ought to be teachers, you need someone to teach you the elementary truths of God's word all over again. You need milk, not solid food!
Acts 17:11 NIV    Now the Berean Jews were of more noble character than those in Thessalonica, for they received the message with great eagerness and examined the Scriptures every day to see if what Paul said was true.
John 14:26 NIV    But the Advocate, the Holy Spirit, whom the Father will send in my name, will teach you all things and will remind you of everything I have said to you.
1 Peter 2:1-2 ESV    So put away all malice and all deceit and hypocrisy and envy and all slander. Like newborn infants, long for the pure spiritual milk, that by it you may grow up into salvation—
2 Timothy 2:15 ESV     Do your best to present yourself to God as one approved, a worker who has no need to be ashamed, rightly handling the word of truth.
Proverbs 3:1-2 ESV    My son, do not forget my teaching, but let your heart keep my commandments, for length of days and years of life and peace they will add to you.
Hebrews 4:12 ESV    For the word of God is living and active, sharper than any two-edged sword, piercing to the division of soul and of spirit, of joints and of marrow, and discerning the thoughts and intentions of the heart.
John 6:63 ESV   It is the Spirit who gives life; the flesh is no help at all. The words that I have spoken to you are spirit and life.
Please feel free to share our posts and our blog site, and leave comments below! We are so glad you are here!