Maybe it's because 2020 was so crazy and emotional (for everybody), but Spring 2021 has been amazing.   Since the first of February, I have been on few weekend trips and have been blessed to be involved in a new Women's Bible study group.  I have made some new friends and reconnected with some old ones.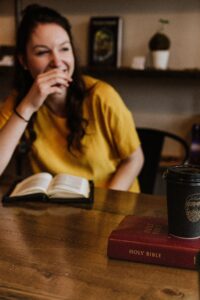 I even met some new friends that felt like old ones!  I've been blessed to worship beside precious sisters in Christ, learn with them, experience the Presence of God with them, share meals with them, pray with them, laugh and cry with them, and hear their stories.  What a WONDERFUL few weeks I have had.
During this time, the Lord has been really S T R E T C H I N G my comfort zone, and speaking to me about several things.  One of the things He has been doing is reminding me Who He is, and reminding me who HE says I am.  A particular minister (whom I have come to love) sent out a Facebook post recently, saying we should get off the couch and raise our hands and declare BOLDLY who we are in Christ!
And y'all know I was sitting on my couch in my ratty old bathrobe with a glass of tea when I read that (of COURSE I WAS!)
You should always take good advice, so I got up, with my sword of truth in my hand, and started declaring the WORD!  I started telling God Who the Word says He is and Who He is to me!  Then I started thinking about who He says I AM.  Y'all, some of the things that HE says I am and that He has called me to do/be, are hard to take in.  Some of them I couldn't even SAY out loud without laughing.  (Can any of y'all identify with that?)
Then, in my spirit I heard Him say "Why are you laughing?"
OUCH! My toes!! Lord, you are stepping on my toes again!
The Lord reminded me of a scripture in Genesis (18:10-15) when He asked Sarah the same thing.  God had given Abraham and Sarah a promise – He told them who they were going to be – and Sarah laughed.  I imagine she probably didn't MEAN to laugh at God.  She was probably like me (and maybe like you), when God tells us who we are, or what He is going to do through us – we look at ourselves, laugh, and say "Really God?  Are you sure? Have you SEEN me lately?"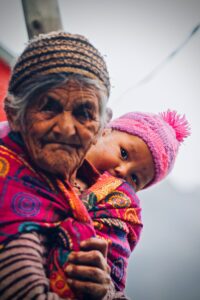 My NIV Bible say that when Sarah heard the promise, she laughed and thought to herself (vs 12), "After I am worn out?"  Girl!  I feel that!  Don't you just want to fist-bump her and say, "Sarah, come over to my tent! We'll have some coffee and talk about being WORN OUT, sister!"
This is the account from the Message Bible…
Genesis 18:11-12 MSG   Abraham and Sarah were old by this time, very old. Sarah was far past the age for having babies. Sarah laughed within herself, "An old woman like me? Get pregnant? With this old man of a husband?"
But God.
The Creator had DECREED that Sarah was going to MOTHER a child – NATIONS, EVEN! He didn't ask her if she thought it was a good idea.  He didn't ask her if she thought she could handle the pregnancy and birth while she was in her 90s – much less RAISE this young'un.  He just said, "I will bless her so that she will be the mother of nations; kings of peoples will come from her!"
He didn't ASK her permission.  All she had to do was be a willing vessel, and stand back to see what He would do.  God had this planned for her!  He knew her and knew WHO SHE WAS before she was born – LOOOONG before she ever had an inkling!  Did you catch that?  God knew Sarah was the MOTHER of the nation of Israel BEFORE SHE WAS FORMED IN HER MAMA'S WOMB, y'all.  She was ALWAYS going to be the mother of NATIONS, even if she was in her 90s before she found out.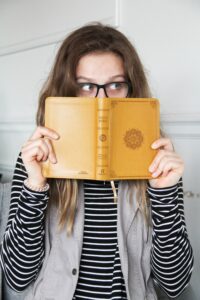 And He was faithful to keep His promise.  He transformed – completely reshaped – the life and legacy of an old, barren, childless woman.  Sarah became the mother of the nation of Israel.  She birthed a nation, and ultimately the Messiah, from her bloodline.
Y'all, that get's me EXCITED!!
If God will do THAT with a woman in her 90s, what on EARTH gives me the gall to think He can't or won't do what He has told me?  What makes me think that my life and legacy will always look like I see it now?
Lord, forgive me for laughing.  Forgive me for doubting what you will do with a willing vessel.  Nobody but me and You know exactly how broken – how warped, burnt, damaged, misshapen, and WORN OUT this vessel really is.  But that just makes it all the sweeter when You make it into something You can use.
So, Men and Woman of God, declare over yourself who HE says you are!!  You are LOVED!  You are FORGIVEN!  You are PRECIOUS!  You are BEAUTIFUL!  You are STRONG!  You are VALUABLE!!  You are FREE!  You are IMPORTANT!!  You are BOLD!! You are GIFTED!! You are WHO HE SAYS YOU ARE!! And you are soooooo much MORE than what the world says you are.
Take a good look at your life.  Now watch what God can do!