When a season of our life is particularly difficult, we often refer to it as "going through the fire".  Usually that feels pretty accurate, too. Many times, in the midst of those seasons, we feel like no matter what we do there is little or no relief and we are getting burned no matter which direction we turn.
Fire is mentioned (in MANY different contexts) throughout the Bible.  But for our purposes, for this blog post, a fire is a trial.  It's a hard season of our life, that often leaves us with burns and places on our skin that are sensitive.  Sometimes we are left with wounds where even the slightest touch makes us wince and withdraw in pain.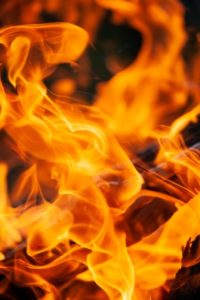 We have ALL been through those places.  We've been through the fire.
In the book of Daniel, when the Jews were defeated and taken into captivity in Babylon. King Nebuchadnezzar chose young men who were healthy, fit, handsome, and well-educated, to be brought to his palace.  There they were taught the language and the ways of the Babylonians, and taught to serve in his palace.  Daniel, Hananiah, Mishael, and Azariah were among them.  The king gave them new Babylonian names, and so we know the latter three as Shadrach, Meshach and Abednego.
I'm sure most of y'all know the story of the three Hebrew teens Shadrach, Meshach and Abednego, but here is a little refresher:
All our guys were getting along just fine in captivity.  It would have obviously been quite an adjustment for anybody, but they were making it.  Their faith in God was strong.  Their lives were different now, but they had made adjustments where they could and stood strong in other areas where the Lord have given them favor. (Read Daniel chapter 1 to learn about the favor God had given them with the king because of their faithfulness in the wake of upheaval and chaos.) Daniel and his friends prayed for each other, supported each other, and sought God's will together.
The next thing you know, Nebuchadnezzar has commissioned a HUGE gold statue of himself. (What a humble guy.) When it is finished, this thing is about 90 feet high and 9 feet thick. Then he issues a decree that whenever the band plays, everybody must get down and worship the statue.  And anybody that DIDN'T worship it would be thrown in to a blazing fiery furnace.
And what did everybody do when old Nebbie struck up the band?  They fell to the floor and did as they were told, of course!  …EXCEPT for Shadrach, Meshach and Abednego.  These guys had already purposed in their hearts that they would do what they needed to do in this foreign land, but they would NOT defy their God and worship an idol, no matter the penalty.
Some of the king's flunkies do what folks always do in a situation like this.  They tattled. (Daniel 3:8-12)
So there are our boys.  In a pickle.
The Reader's Digest version goes like this: the King got mad. The NIV says he was "furious with rage." And our guys made no excuses or apologies about their behavior.  They didn't say, "Please understand that we aren't trying to offend you."  They weren't rude or disrespectful, and they acknowledged the king's power over them, but they just laid it out to him.
Daniel 3:16-18     Shadrach, Meshach and Abednego replied to him, "King Nebuchadnezzar, we do not need to defend ourselves before you in this matter. If we are thrown into the blazing furnace, the God we serve is able to deliver us from it, and he will deliver us from Your Majesty's hand. But even if he does not, we want you to know, Your Majesty, that we will not serve your gods or worship the image of gold you have set up."
And if Old Nebbie wasn't mad before, he was for SURE now.  He had the furnace stoked up 7 times hotter than usual, and had the boys tied up and thrown in.  It was so hot in fact, that it killed the guards that held them.
Now I have to tell you, if I'm being honest, even if I had the guts to speak as they did to the king, my prayers before and after would have been a little bit DIFFERENT.  POSSIBLY not QUITE as full of confidence…maybe a little whinier…  Probably more like, "Lord, you see this!  I haven't done ANYTHING wrong!  Look where I am!! I'm about the be thrown into a blazing fire.  Get me out of this! Come on God! Make it RAIN up in here or somethin'!"
Because, let's tell the truth, no matter how spiritual you think you are, NOBODY WANTS TO GO THROUGH THE FIRE!!
We will get close to the fire.  We will peek over into it.  We will tippy toe around it.  We'll stand around it and sing KUMBAYA.  We might even get out the hot dogs and marshmallows.  But NOBODY actually wants to be thrown in.
However, the Word says that they were bound up and thrown in.  And what happened to them in there?  Well first, they were NOT alone.  Even the King was looking at his flunkies standing all around him and said, "Didn't I throw only three men in?  I see four." Evidently, he thought the fire had seared his eyeballs.  He even said, "and the fourth one looks like a son of the gods."
This is probably a good time to point out that the number 4 in Hebrew is "dalet" – it means "a door." And Jesus is the door, the only way, through which we get salvation.
So what did the fire do to them?  Well, the first thing we notice (apart from them not being alone) is that they are unbound! The fire burned off the rope. It burned away the things that bound them, and in the middle of that horrible fiery furnace they are walking around free. They aren't burned.  They aren't screaming in pain.  They ARE still in the fire, but they aren't alone and they are learning what it's like to be in the fire, unbound.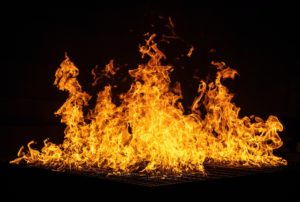 Now, let's be real.  If they were Christians of today, you might have Sister Better Than You, and Brother Holier Than Thou sitting in the pew behind them whispering, "Well they MUST be doing something wrong.  Otherwise they wouldn't be in this mess.  They MUST have missed God SOMEWHERE or have some hidden sin or unforgiveness or something going on.  Otherwise God wouldn't be letting them go through this."  Because that's how we think, isn't it?  We tend to have this idea that if you are in the perfect will of God that everything is going to go great for you! No problems.  No issues.  And sometimes that IS the way it works.
But SOMETIMES, there is this fire…
Isaiah 43:1-2 NIV   But now, this is what the LORD says- he who created you, Jacob, he who formed you, Israel: "Do not fear, for I have redeemed you; I have summoned you by name; you are mine. When you pass through the waters, I will be with you; and when you pass through the rivers, they will not sweep over you. When you walk through the fire, you will not be burned; the flames will not set you ablaze.
Nebuchadnezzar knew he had screwed up.  He had messed with not just servants of A god, but servants of THE GOD.  BIG DIFFERENCE!!  This God is The One who spoke the universe into existence.  Nebuchadnezzar called into the furnace and said, "Come out, you servants of the Most High God!" (Daniel 3:26)
And when they came out, when it was all over but the shoutin' (and you better believe these guys were shouting and praising God on the tail end of this!  They probably danced ALL NIGHT LONG!!) they didn't have a mark on them.  The fire that was meant to consume them, only burned the rope that had them bound up.  It didn't burn their clothes.  It didn't burn their hair.  Nothing was even scorched.
The Word says THEY DIDN'T EVEN SMELL LIKE SMOKE, y'all!!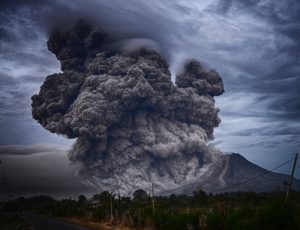 I guarantee you that every other man in that room went home smellin' like smoke!  But not these three.
It's been said that when a structure burns, if it has costly materials in it (gold, silver, etc) the fire will cause those things to glow brighter.  (Gold melts at about 1947 degrees F, and silver melts at about 1761 degrees F, and the average house fire burns at about 1112 degrees F) So those things normally don't melt, but the fire consumes and burns up any of the more inferior materials.
That is how it is with us.  If we will stand when we need to stand, and be teachable when we need to be, then walking through the fire can benefit us in the end.  It can cause our good qualities to be polished and refined and burn brighter, and our bad qualities to be burned away.
God is still in the delivering business.  And many times he will deliver you from the fire (He's done it for me!) But sometimes, He doesn't deliver you FROM the fire.  Sometimes He delivers you THROUGH the fire.  So if you are going through a fire, be encouraged! You are not alone! Stay faithful! Let it burn away the things that bind you and hold you back.  Let it burn away the things that are inferior and that are not in God's plan for you.  Come out on the other side refined, delivered and not even smelling of smoke!
1 Corinthians 3:11-15 TPT    For no one is empowered to lay an alternative foundation other than the good foundation that exists, which is Jesus Christ! The quality of materials used by anyone building on this foundation will soon be made apparent, whether it has been built with gold, silver, and costly stones, or wood, hay, and straw. Their work will soon become evident, for the Day will make it clear, because it will be revealed by blazing fire! And the fire will test and prove the workmanship of each builder.  If his work stands the test of fire, he will be rewarded. If his work is consumed by the fire, he will suffer great loss. Yet he himself will barely escape destruction, like one being rescued out of a burning house.
Psalm 66:12 TPT    You've allowed our enemies to prevail against us. We've passed through fire and flood, yet in the end you always bring us out better than we were before, saturated with your goodness.
1 Peter 1:6 NIV    In all this you greatly rejoice, though now for a little while you may have had to suffer grief in all kinds of trials.
Please feel free to share our posts and our blog site, and leave comments below! We are so glad you are here!