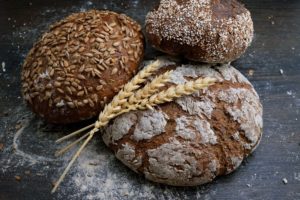 Most Christians are familiar with the Lord's Prayer (Matthew 6:9-13) and the verse, "Give us this day our daily bread."
When giving us the example of the Lord's prayer, we are also told to "pray after this manner." Is the Lord telling us to pray for bread? Not exactly. Although if that is what you need — if you are hungry — then by all means… Instead it means we should ask the Lord to give us, not just what we need to eat today, but all that we need to get through the day. To give us provision.
We need not just physical, but also spiritual provision to get through the day. Just like when the Israelites wandered in the desert, God provided them daily physical provision (like the manna they gathered everyday to eat) but He also provided daily spiritual provision. His glory that was traveling along with them in the form of a cloud by day and fire by night. Can you even imagine? They got to look out and see a physical manifestation of the presence of the CREATOR of the UNIVERSE at their back door. Every day his presence was with them whether they were traveling, or stopped to rest, or camped out for the night.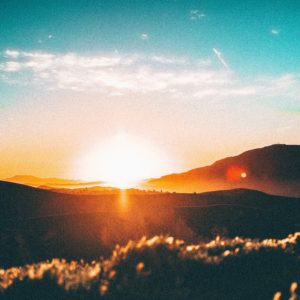 But it was NEW presence every day. It wasn't YESTERDAY'S cloud, or the pillar of fire from last week. It was fresh and new and NOW.
It was the same with the manna. They could only gather enough manna for THAT DAY. If they tried to get extra, it went rotten and was full of worms. (Except for the Sabbath! They weren't allowed to work, or gather on the Sabbath day of rest, so they gathered enough on Friday for two days. That manna stayed good for 2 days! He was looking out for the rest and the health of His children. Ain't God good, y'all?!)
It boils down to this: You can't live on yesterday's stuff. The needs are new, so the supply has to be new too.
What if you were trying to function on yesterday's sleep, rather than last night's rest? What if you were trying to parent your children with yesterday's compassion or patience? Have you ever had to live TODAY on last month's paycheck? Or how about trying to make your marriage work on yesterday's love and respect? It doesn't work that way. You need to have a new supply.
The same thing applies spiritually. You must be filled up. You can't operate on yesterday's grace, mercy, or anointing. It's got to be FRESH!
Elijah was fulfilling God's plan for him when he prophesied drought to evil King Ahab. (1Kings 17). And prophesying drought, meant drought for EVERYBODY – Elijah included. That couldn't have made him the most popular dude at the palace. Then God told Elijah to go down to the Brook Cherith and hide. God didn't leave him there hungry. He sent birds down to the prophet of God with food.
BIRDS brought him FOOD.
God made provision for him. God provided for him.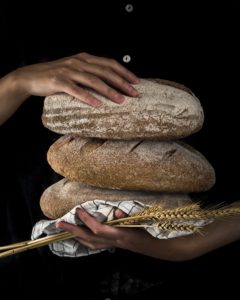 After the brook dried up, God sent Elijah to a widow's house. The scripture doesn't say, but one can only imagine this lady had been crying out to God. (Go here to see the recent post describing what happens when we cry out to God.)
She was about to use the last bit of food she had to make the last meal for her and her son before they starved to death (1Kings 17:7-16). She told the prophet of her situation and he asked her to use the last of her food to make a cake for him FIRST – and then feed her and her son.
How many of us would do that for a stranger? But she did. And the Word says that her flour canister and her oil canister didn't run dry until the drought ended. (And if you read on down to vs 17, God used Elijah to heal the widow's son, too!) God made provision. God Provides for His people. David said it like this:
Psalm 37:25 NIV      I was young and now I am old, yet I have never seen the righteous forsaken or their children begging bread.
He gives the birds of the air and the lilies of the field what they need for each day. (Matthew 6:25-34) Why wouldn't he give you the things you need? Your Father in heaven already knows your needs. What is our responsibility as Believers? What is your assignment? SEEK YE FIRST THE KINGDOM OF GOD (Matthew 6:33).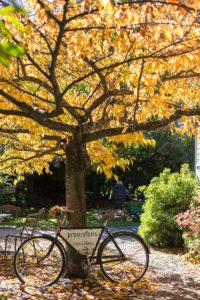 The Message Bible puts it this way in Matthew 6:33-34 Steep your life in God-reality, God-initiative, God-provisions. Don't worry about missing out. You'll find all your everyday human concerns will be met.
Give your entire attention to what God is doing right now, and don't get worked up about what may or may not happen tomorrow. God will help you deal with whatever hard things come up when the time comes."
He KNOWS our needs. He cares about the big things and the small things in our lives. And he WANTS us to bring them to Him. As a Believer, Hebrews 4:16 says that we are able to come BOLDY before the throne of grace and ask for what we need.
The Passion Translation puts it like this:
Hebrews 4:16 TPT    So now we come freely and boldly to where love is enthroned, to receive mercy's kiss and discover the grace we urgently need to strengthen us in our time of weakness.
If you have children, you know that the things you see as small in their lives (especially if you have teenagers) are BIG things to them! It's all about perspective. Isn't it good to know that your heavenly father is concerned with ALL of those things in your life? He cares about YOUR perspective and what is important to YOU.
When you love someone, you care about the details in their life. When something is important to them, it is important to you. And the Father LOVES you! You are His beloved child!
Psalms 37:23 says that He delights in the details of our lives! He wants to direct your steps! And He wants to supply your needs every day.
Philippians 4:19 NIV
And my God will meet all your needs according to the riches of his glory in Christ Jesus.
Lamentations 3:22-23 KJV
It is of the LORD's mercies that we are not consumed, because his compassions fail not. They are new every morning: great is thy faithfulness.
Please feel free to share our posts and our blog site, and leave comments below! We are so glad you are here!