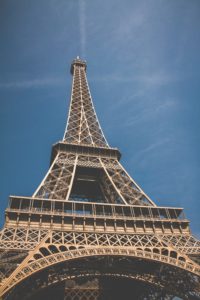 I've been thinking a lot this week about landmarks. Now I will be the first to tell you, I stink at directions. If I ask you how to get somewhere and you come at me with crazy words like "north" and "south" then you might as well call search and rescue, because this old girl is LOST. But now, if you talk to me about landmarks or memories I can come a LOT closer to finding my way.
If you tell me , "It's north of here, out on Hwy 685," then you'd better come with me, because that dog won't hunt.
If you say, "The place you are looking for is in the big shopping center in front of Walmart! Do you remember when we took the kids to that Japanese restaurant? It's right beside that," well, now you are speaking my language! I am there!
I am the sentimental type, I guess. I love pictures. I love things that remind me of a person, or an event, or a season of my life. Whenever it gets hot and sticky outside and we are headed south through the pine trees, I remember my Papaw. He had a long den and his chair sat at the end. He would sit there beside the window with his Bible in hand and study his Sunday School lesson. If you attempted to talk to him he would tell you wait a minute while he turned up his hearing aid. It was sitting there in that den that he told me how he had been praying that I would "make a nurse" and "marry a Mississippi boy." I laughed. I said, "I have no desire to be a nurse! And where am I gonna meet a Mississippi boy while I'm living in Kentucky?" He just smiled. I imagine he is in heaven now laughing. (Spoiler: I met and married a Mississippi boy the year Papaw passed, and started back to school for nursing 2 years later.)
I believe God is sentimental too.
I know, you probably think I have gone off the deep end, but hear me out. The Hebrew word in the Bible for "memorial" is "zikkaron," meaning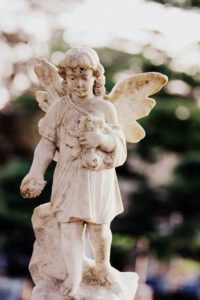 "remembrance," and also "record, sign, and reminder." The Bible says that the WHOLE REASON God chose Abraham to be the Father of Israel, is because he would tell his children about the Lord, and instruct them in His ways. (Genesis 18:19) In other words, God knew Abraham wouldn't let his children forget the things of God!
In Exodus 12:14 God tells us to celebrate Passover "throughout your generations," to remind us of the time in Egypt when God was merciful to the children of Israel. If they were obedient and had spread the blood of the lamb on their doorposts, then the angel of death passed over their house. Passover reminds us of God's goodness and mercy. All of the feasts of Israel are about celebration and remembering.
In Joshua, God instructs the twelve tribes of Israel each pick up a stone from the Jordan River to remind them of when the Jordan River parted before the Ark of the Covenant so they could cross over. The ark of the covenant contained a pot of manna, to remind the children of Israel that God had made provision for them in the wilderness. It also contained Aaron's rod, which had become a serpent before Pharaoh (Exodus 7) and had sprouted overnight and bore ripe almonds (Numbers 17:8).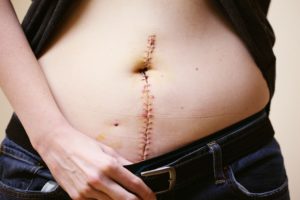 We all make our way through life and develop landmarks, scars, memories along the way. Some of them we carry with us – physical scars – and some are more emotional, mental, or spiritual in nature. I have a rather large, ugly scar on my abdomen that makes me smile every time I see it. I think of the birth of my child (she was delivered via emergency c-section) and how merciful God was to us during that time.
In my kitchen, there is a stool with a tractor seat that my Papaw made. It used to sit at the bar in my Nanny's kitchen, under the wall phone with the big cord.  (Today's kids don't even know what a wall phone IS!) It's where I would see Papaw sit because it was tall enough that it didn't hurt his hip. As a child, it's also where I sat in the mornings and ate the breakfast Nanny made for me. Or where we would all gather when Papaw was boiling peanuts and laying them out on the kitchen bar for us to eat. My brother has a hard hat that Papaw wore to work on an offshore oil rig. It says, "Deacon" across the side. That was his nickname.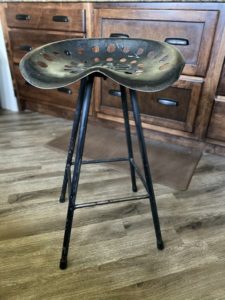 Even away from home and family; even miles out into the Gulf of Mexico on a big, dirty, noisy rig, folks knew by the way he lived that he was a man of great faith, and a man of God.
My husband and I love auctions. We love old things that "tell a story," as they say. But I am always amazed at the people that are willing to throw out their family heritage. They have no regard or respect for the story that formed their bloodline, either physically or spiritually. I can't tell you how many times I have gone to purchase something from an estate sale and I have asked the family, "Are you sure you want to sell this? There isn't a child or grandchild or niece or nephew that would cherish it?" I see churches throwing out, or "yard saling" things that were once precious to the body of Christ. I see people disrespecting the sacrifices others made for the house of God. Those things are landmarks along a path. It breaks my heart.
Don't misunderstand. I am not saying we should value THINGS above people. And I'm not saying you should save EVERYTHING. But I do believe there is value in remembering. If there wasn't value in it, the Lord wouldn't have mentioned it so many times in his word. Over and over He says things like, "do this in remembrance," and "build a memorial," and "tell your children" and simply "remember." If you look at the temple, practically EVERYTHING was a symbol, or a representation, or done in some way so that Israel would REMEMBER.
All cultures have their own monuments, landmarks and memorials.  Egypt has the pyramids and the Sphinx.  Italy has the colosseum, the pantheon, and the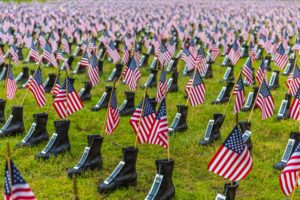 leaning tower of Pisa.  France has the Arc de Triomphe, the Eiffel Tower, the Palace of Versailles. Every culture has memorials and landmarks that they cherish and are precious to them. (In my family there is a building near Nashville TN, that when we drive past, elicits a rousing rendition of a song about lunch meat from parents, children, and now grandchildren. It's a family tradition!)
And just like any other landmark, these landmarks in our lives and along our journeys help give us direction. They can remind us of similar situations and outcomes of decisions that were made. Hindsight is 20/20 and that is the advantage of looking back. The now blessedly defunct concentration camps of Nazi Germany remind us that life and freedom are precious and should not be given away. They also remind us how powerful manipulation, propaganda, and the herd mentality can be. They tell us, "Don't turn down that road again." When we go north and see places like the site of the Boston Tea Party, we are reminded that sometimes it's worth the risk to defy the powers that be in order to do what is right.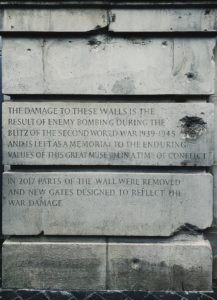 Places like Pearl Harbor remind us what happens when we are unprepared for attack, and also what bravery and heroism is often birthed in the midst of destruction.
I'm not saying we should live in the past. But I AM saying that we should respect it and learn from it. Don't disregard your heritage. Don't toss aside landmarks. They are evidence of the things that make you, your family, your community, and your nation what they are today. Celebrate the good. Learn from the bad. But don't throw any of it away. It is valuable.
Joshua 4:4-7 NIV     So Joshua called together the twelve men he had appointed from the Israelites, one from each tribe, and said to them, "Go over before the ark of the LORD your God into the middle of the Jordan. Each of you is to take up a stone on his shoulder, according to the number of the tribes of the Israelites, to serve as a sign among you. In the future, when your children ask you, 'What do these stones mean?' tell them that the flow of the Jordan was cut off before the ark of the covenant of the LORD. When it crossed the Jordan, the waters of the Jordan were cut off. These stones are to be a memorial to the people of Israel forever."
Exodus 28:29 NIV     Whenever Aaron enters the Holy Place, he will bear the names of the sons of Israel over his heart on the breastpiece of decision as a continuing memorial before the LORD.
Numbers 10:10 NIV     Also at your times of rejoicing—your appointed festivals and New Moon feasts—you are to sound the trumpets over your burnt offerings and fellowship offerings, and they will be a memorial for you before your God. I am the LORD your God.
Please feel free to share our posts and our blog site, and leave comments below! We are so glad you are here!